About "Black Holes And Empty Spaces" - by Rob Gould (2017)
coming soon!
An ongoing project in recent years has been to archive all the tracks from before i started to release music -
My debut release being the soundtrack to Gavin Newman's audio visual of'Caves Of Thunder' which was made available on cassette as an 18 minute long track in 1993.
The track was remastered in 2003, along with 11 other tracks from that period forming my 2nd cd release in the same year.
During a 6 year break between bands ('Masque', 'The Fragrant Cellar Trio' and 'Dr Volospion' 85 to 88 - 'Some Strange Quarters' 93 and 'Fula' from 94), I recorded many, many pieces of solo 'music'
in various forms and in various formats, of which i've mostly managed to rescue from the tape sources and archive.
Some of these recordings later turned into proper pieces used on later albums and by Fula in particular -
but still a fair amount of, to my mind, very interesting and unusual recordings remained unheard, apart from myself.
In 2016, I began to remaster many of these recordings. This cd represents a period when much experimenting and 'finding out' took place in my way of producing and arranging sounds.
I've attempted to recreate a flow to this album, which in some ways is my 'lost album' or 'pre debut debut'.
Because of the basic recordings and as part of the learning process, dispite my best efforts to rescue a good sound, there are inevitably some 'bumps in the road' here.
Glitches, multi- bouncing overdub wooliness, underdubs from previously discarded takes, noise etc etc - however, i was greatly suprised at how well most of the recordings sound -
and I have been able to do more than just a rescue job in my view - at least it's a document of a time of musical discovery and fullfilment
To folks who have enjoyed my various musical endevours over the years, this album may be an intersting re-starting point - and to newcomers - well, as some packaging indicates - 'warning - may contain nuts!'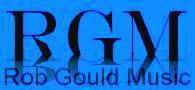 © Rob Gould. All Rights Reserved.